>
Aerial Futures | Big Dreams For Busy Skies
Aerial Futures | Big Dreams For Busy Skies
What happens if you invite leading experts and pioneers from various disciplines, industries and countries and put them together in a room for an entire day? Obviously: great things. But more so: stimulating, entertaining and even heated debates which advanced an important conversation on the future of urban air mobility.
In collaboration with the Swiss Touch campaign and AERIAL FUTURES, we invited over 30 experts from the fields of aviation, innovation, engineering, regulation, architecture, design and urban planning to join a multi-disciplinary conversation across dimensions on the future of our lower skies. In four sessions, the think tank explored the realms of policy, design, technology and business related to UAM. At the end of an intensive day, we were left with more questions than answers. The participants agreed on at least one common denominator: we're really just at the beginning of our journey.
Graphic Recording
To preserve the conversations in the room and engage the participants, we collaborated with Graphic Recorder Mike Petitto of the Boston based design solutions company "Collective Next". For each session, Mike captured the key insights and narratives in life drawings.
1. Intro Circuit | Mapping The Field
To kick off the day, we invited the participants to present their most thought provoking ideas on the future of Urban Air Mobility in a quick-fire pitch session. The result was a plethora of fresh ideas and concepts. Here are some of our favorite quotes from session one*:
"Imagination has always driven new concepts for air travel. As an industry, we pride ourselves in continuously reinventing ourselves. The question is: how can we make Urban Air Mobility accessible and affordable?"
"Are we simply shifting our problems from the streets to the skies? Which problems are we trying to solve – sustainability or efficiency?"
"Mobility is the key to sustainability. Urban office spaces are more energy efficient and have a lower carbon footprint, precisely because they sit on top of a transport system." "Weather matters. It affects safety, efficiency and reliability. We can't stop a hurricane, but we can certainly include it in our calculations."
"If you want to win something, you need a team, not an individual."
2. Technology and Business Impulse Talks
After a quick coffee break, the group returned to the roundtable to explore the business and technology dimension. Session number two saw an eclectic range of opinions with philosophical questions and stimulating disagreements. How much is time worth? Who truly benefits from UAM and how much are they willing to spend? As a society, we find ourselves at defining crossroads. What really triggers behavioral change? Is it society that stimulates technological innovation or is it really the other way around?
"The freedom of having your own car and schedule is a social status symbol. My time is my time. In Boston, people drive their cars to the commuter rail stations because the trains are frequent. The slowest way of getting from North Station to South Station is by car. It would be great to build more trains, but that costs money."  
"In the Bay Area, people are living in RVs, because they can't afford to live in apartments. If they can't live in the inner city, they need to live on the outskirts and commute. There is access, but the question is: how long do they want to spend in traffic? How much is time worth?"
"Maybe we're at this point where we say: whoever lives in the city can't own a car but should take one of these robo taxis."
"The way we live our lives changes. Take Amazon for example. I used to drive my car to the store to buy something. Today, the store is coming to me. The beauty is: I can still buy Italian shoes without having to be in Italy. How does the way we live our lives impact change?"
"Take the case of blood samples. It used to need an ambulance with 2-3 people on board to deliver 30g of blood to a 6km destination, because there was no other way to do it! Then someone had the idea of using a 10kg drone that takes 5 minutes to deliver the sample – here we have a business case."
"Social behavior drives the business case. For example: When I go to a conference in another city, I could spend a lot of money on a hotel. But what if I could fly there?"
3. Regulatory Framework
When it comes to big dreams and ideas, the sky's the limit. Yet, an air traffic system without rules and regulations would lead to utter chaos and disaster. With ideas come questions. Who does the airspace belong to? Is it a public good or under military control? How can we find a common ground for the regulation of UAM and how would such new means of transportation integrate with the current systems?
"Air travel is no longer perceived as flying from Airport A to Airport B, but from door to door. If integrating UAM into the existing system does not work, do we need a new system?"
"In Virginia there are no regulations on autonomous vehicles, because they want these companies to come and drive innovation. At the same time, many cities make revenues from car related services such as taxes, parking, tickets etc. The government needs to think about how we can be innovative without losing opportunities and ensure they have the funds to operate those systems."
"Depending on the future we imagine, the circumstances change dramatically. Right now, we have about 1 million drones flying around the United States – but that could change very easily. A regulatory structure is build for safety. This might work for 50 people, but what about 5,000 people? How can we transform an existing system that somehow works and push it over that threshold where it stops working?"
"We have to distinguish between regulation and experimentation and regulation from management. Air traffic will likely be controlled by only one, as opposed to several different operators"
4. Design Interfaces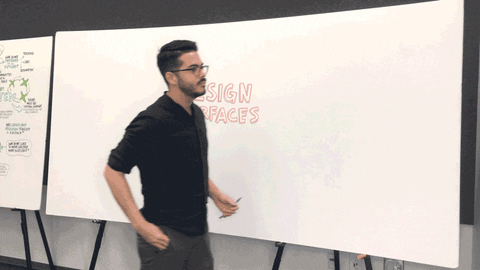 The most visually intriguing presentations were saved for the last session of the day. Andrew Witt from the Harvard Graduate School of Design and Samantha Flores from HUGO, a research and innovation incubator at Corgan in Dallas, Texas, introduced a series of projects and concepts on how UAM could be integrated in urban planning, infrastructure and design.
5. Wrap Up
It's almost 6 o'clock when the last session closes. The think tank participants are visibly exhausted from the conversation marathon – but also clearly fueled by new ideas and zest for action. In the closing round, we asked the participants how they wish for the conversation to continue.  
"More experimentation and creativity."
"Make the topic more accessible, so more people can participate."
"Have reality checks. Early and often."
"Working together and sharing the same vision."
"Getting the people together under one roof is a tremendous job. I came here with the vision that UAM is going to happen in the next couple of years. Now I know that it's going to take longer. But today, we've built an important foundation."
*The Aerial Futures think tank was held under the Chatham House Rule. When a meeting, or part thereof, is held under the Chatham House Rule, participants are free to use the information received, but neither the identity nor the affiliation of the speaker(s), nor that of any other participant, may be revealed