---
Photo credit: Collage deconstructing a mortadella on a back-ground of a macro image of broccoli, alongside the traditional pork, also broccoli, carrots, romanesco, cauliflower and pistachio nuts, by Emile Barret.
Can the sausage be a solution to reduce the consumption of meat and to increase the diversity of our diet? Can it make a considerable contribution to a sustainable food culture? To answer these questions, product designer Carolien Niebling has collaborated with a chef of molecular gastronomy and a master butcher to challenge traditional sausage production techniques, one of mankind's first-ever designed food items, and experiment with new ingredients – like insects, nuts and legumes, to reinvent the sausage of the future.
Join us to experience The Sausage of the Future with Carolien Niebling at WantedDesign Brooklyn, Industry City, opening on May 16th and until May 21st, 2018. Come visit the exhibition booth to take look at The Sausage of the Future book, enjoy daily sausage tastings with our butcher shop partner The Meat Hook from Brooklyn and attend our talks!
Carolien Niebling, born 1984, is a designer and researcher who specializes in food-related projects and lives and works in Lausanne, Switzerland. Graduated from ECAL Master in Product Design in 2014, Niebling is the winner of the Grand Prix Design Parade at Villa Noailles, Hyères and the Hublot Design Prize, 2017. She has been working on The Future of the Sausage research project with the expertise of butcher Herman Ter Weele from Oene, Netherlands and chef Gabriel Serero from Lausanne, Switzerland, to create a series of innovative sausages and explore the sausage as an edible designed object.
Presented by the Consulate General of Switzerland in New York and swissnex in New York.
Supported by The Meat Hook, our butcher shop partner in Brooklyn and Vitra Inc.
A research project conducted at ECAL / Ecole cantonale d'art de Lausanne and published by Lars Müller Publishers.
Clockwise, from top left: Carrot, apricot and coconut dried sausage Berry, date and almond dried sausage Insect salami Berry and liver sausage Apple blood sausage Potato and pea fresh sausage Vegetable mortadella. Photo: Noortje Knulst
Experience the Sausage of the Future with us!
See here our calendar of events to taste the sausages of the future while gaining insights on this unique research project:
Thursday, May 17: Talk with Carolien Niebling and Brent Young of The Meat Hook – Moderated by Emilie Baltz, a food technologist, experience designer and multimedia artist
6:30 – 8:30 pm at The Meat Hook, 397 Graham Avenue, Brooklyn, NY 11211
Join award-winning product designer Carolien Niebling and Brent Young, butcher and co-owner of The Meat Hook for a conversation on sausage making, challenging traditional production techniques and exploring new ingredients like insects, nuts and legumes to create the sausage of the future. The conversation, moderated by Emilie Baltz, will be followed by a tasting with sausages specially produced by Niebling and Young for their collaboration at the WantedDesign fair.
Free, RSVP required: sausageofthefuture.eventbrite.com
Friday, May 18: Sausage Tasting – 4:00 pm at the exhibition booth, WantedDesign Brooklyn
Saturday, May 19: Talk with Carolien Niebling and Stefani Bardin – 4:00 pm at the exhibition booth, WantedDesign Brooklyn
Join us for a conversation between Carolien Niebling and Stefani Bardin, Professor at the Graduate Food Studies Program at NYU and at Parsons The New School For Design.
 Followed by a Sausage Tasting.
Sunday, May 20: Sausage Tasting – 3:00 pm at the exhibition booth, WantedDesign Brooklyn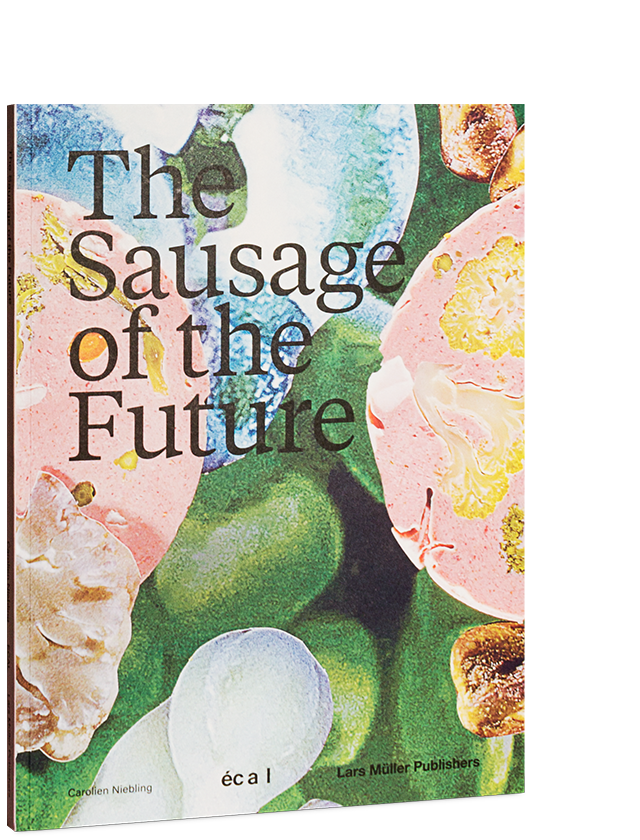 ---
Also, you can buy the book "The Sausage of the Future":
The book will be on display at the exhibition at WantedDesign Brooklyn and you can also purchase it at the official IC Store by WantedDesign at Industry City located at 274 36th Street,
Brooklyn, NY 11232. Store hours: Tuesday-Sunday, 11am-5pm.