>
Observing Giants | Entering the Surreal Virtual Dreamscape of Gilles Jobin
Observing Giants | Entering the Surreal Virtual Dreamscape of Gilles Jobin
Brooklyn, New York – It's a Thursday evening in March. For a little more than two weeks, the Brooklyn Academy of Music (BAM) has hosted its annual Teknopolis exhibition – a multi-sensory celebration of human-tech interactions.
We're on the 4th floor of the building in the Flatbush neighborhood of Brooklyn, in line for one of the main attractions: VR_I, the virtual dance performance by legendary Swiss choreographer and visionary Gilles Jobin. swissnex Boston and our New York team partnered with the artist to bring this immersive work to the US and we are eager to experience it for ourselves. Before we enter the space, a museum attendant prepares us. "If at any point you feel uncomfortable – raise your hands. Don't step off the gray platform. Do wander around and explore the other characters you encounter. Do engage with each other. Move freely."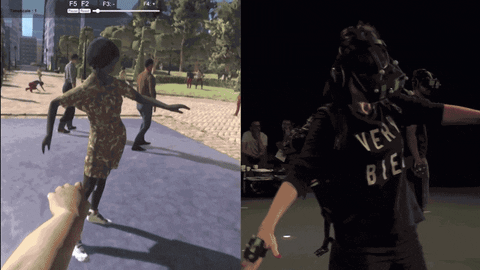 The museum staff helps our group of 5 people (a mix of swissnex staff and complete strangers) with the equipment. We get a backpack carrying a computer, sensors for each of our feet and hands, a microphone and headphones and the piece de resistance: a VR headset.
"If you can hear me, raise your hand," the instructor speaks into our headphones. Just moments after, we find ourselves in a grey cave – no windows, no daylight. Everyone has morphed into a unique human avatar and is spending time discovering their new looks. I marvel at my cool sneakers and try to figure out which of the other avatars are my colleagues.
Suddenly, we see strokes of light glimpsing from below the cave's edges. The cave is rising! We discover giant feet, many times bigger than ours. The cave is being lifted by a giant- in fact, it's a very accurate replica of Gilles Jobin himself – we recognize him immediately.
What begins is a mesmerizing immersive experience.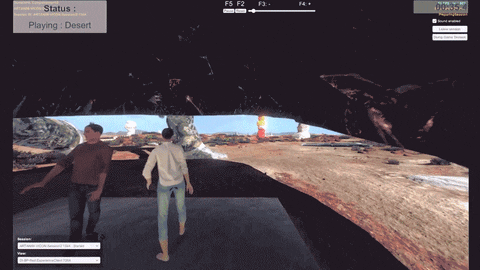 When the cave is lifted away from us, we find ourselves in a vast desert landscape surrounded by sleeping giants and a few abstract structures. It looks like a scene out of Burning Man, only much quieter and with only 5 people, plus the 6-8 giants we see in the distance. Slowly, the giants rise and make their way to the platform where we wait. We look up at them in awe and they return a similarly curious gaze, as if our smallness is as curious to them as their bigness is to us.
As we explore the dream-like environment, we notice a hilltop house in the distance with large picture windows. Hearing some excitement behind us, we turn around to see one of the giants placing a wall right up against our platform. Shortly after, another wall was found and placed perpendicular, then two more walls joined and finally, a roof. We were now inside a beautiful, minimalist, and tastefully decorated home. Looking out of the large picture windows, we can see below the platform we were standing on just moments ago – we had switched positions and now stood inside the house we had noticed before, looking down at ourselves – our previous selves.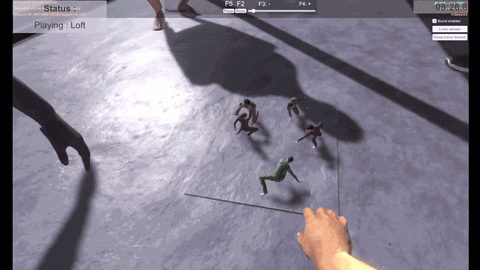 We won't spoil the experience for you, but themes of size, perspective, perception and point-of-view continued throughout the experience, all tied together by the very human element of movement. The result is an experiential art piece unlike anything we've seen before.
"What makes this experience so striking for me is that the medium doesn't eclipse the content," said our Senior Communications Manager, Jake Link. "It feels like a case of artistic vision being empowered by a leap in technology – not a gimmick or a pandering to the capabilities of the technology. It's at once so dreamlike and mesmerizing, but also incredibly judicious in the way the technology is used."
"It is a fantastic example of creativity happening at the intersection of technology and art," says Alexandra Mueller-Crepon, swissnex Boston's Project Leader for Art/Science Programs. "Swiss artists are embracing new media to create meaningful artistic work. We want to ensure that this work is showcased at institutions of global relevance, such as BAM, not only to promote the individual artist, but also to bring visibility to the creative potential that can be found in Switzerland."
Interested in learning more about VR_I and Gilles Jobin? Check out the exhibition's website for videos and dates for the ongoing world tour.